In this episode of Around The Block in Annapolis we meet up with Sue, owner of The Red Bean in downtown Annapolis. This artisan coffee and ice cream shop is serving up some pretty unique flavors to Annapolis area residents! Be sure to check out the full interview below!
Why did you decide to open up a coffee shop in Annapolis?
So initially, I did write off In Annapolis, when I started to look, but then I ultimately came back because I just thought it was so cool. I thought, no body has ice cream like this. No one's ever even seen ice cream like this. I know Annapolis loves their ice cream so much.
What gets you fired up and ready to come to work each day?
I just really love the sense of community. Being downtown and being a coffee shop, you know, it's a place where people can come and spend a couple bucks and hang out, and I just really love it in here when every seat is full and people are just enjoying themselves. So just being able to give that experience to people who otherwise maybe don't get that, 'cause of social media and just they're busy with work. It's just nice to have a nice spot to come to where they can truly enjoy everything. So I love seeing that, and that definitely makes me get out of bed.
There are a lot of coffee shops out there, what makes The Red Bean unique?
So everything's made to order. So we just have chocolate or vanilla, and then you get to pick whatever ingredients you want. So you have over 50 ingredients that you can pick from and you just tell us what you want in there, and then we blend it all up for you, custom. Of course, we do have suggestions on our menu board here of some just tried and true favorites that really work well together if you're not feeling starting from scratch. My favorite of all time is the cinnamon chilli dark chocolate.
How is your coffee different from, say, a cup of coffee from Starbucks?
Our coffee is awesome because we use local roaster, Open Seas Coffee, he's out of Stevensville. Our milk's locally sourced. All the syrups and sauces are homemade in house by me so you're not going to get that anywhere else. And we just have some interesting flavors and combinations. We have a peanut butter mocha. We've got honey lavender latte. So we just started with really good ingredients and then just trying to pull the best espresso we can.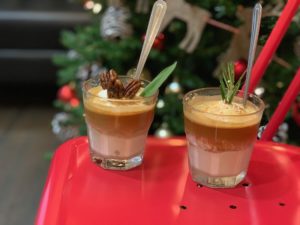 You brew Fair Trade Coffee, can you tell me a little about what that means?
So our roaster Bryce at Open Seas works directly with farmers to basically, source. He sources sustainable coffee that's priced fairly for the farmers, so that long term these farmers can still be around and they can have a good life for the communities in which they come from which is pretty cool. Fair trade is really important to keep these long term, for the coffee industry and for the places and people that it's coming from.
What made you decide to open up The Red Bean?
I just had this crazy idea on the way to work one day. I just thought where would I want to be driving to today. And I thought I would want to be going to my own coffee shop, and then I kind of thought that's pretty crazy. But I'd worked at a coffee shop and ice cream shop in college that had these machines, and I saw the concept worked, and from there I just started planning, saving money, and four years later, found this location and here I am.
What are you trying to give the community by owning and operating The Read Bean?
So I think in life nowadays there's a lot of fast paced work and social media, not a lot of relationships maybe happening as much as ever before in our society. So I think having a place where people can stop, take a breath, enjoy their family, enjoy their friends, have a good conversation over really good coffee, really good ice cream, it's just very rewarding to watch. And I think it's just really enjoyable for them too.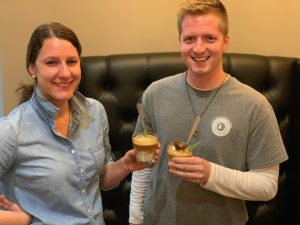 Have you been to The Red Bean? What was your favorite item on the menu?